Regular price
Sale price
$5.50 USD
Unit price
per
Sale
Sold out
Share
Indulge in the Refreshing Delight of Orange Sherbet 🍊🍦
Treat your skin to a delightful burst of refreshment and replenishment with our Orange Sherbet skincare creation. Specially formulated to cater to neutral skin, this invigorating blend of carefully selected ingredients will leave your skin feeling revived and rejuvenated.
Immerse yourself in the nourishing embrace of our unique blend of refined olive oil, argan oil, avocado oil, and sunflower oil. These skin-loving oils work harmoniously to moisturize, hydrate, and replenish your skin, unveiling a soft and supple complexion.
Experience the luxurious texture of natural beeswax, emulsifying wax, and soy wax as they lock in moisture and protect your skin's natural barrier. Shea butter, cocoa butter, and kokum butter contribute their rich and creamy goodness to further nourish and pamper your skin, providing deep hydration and leaving it irresistibly smooth.
Enhanced with the soothing qualities of jojoba oil and the delicate essence of vanilla bean-infused oil, our Orange Sherbet blend offers a sensory delight that transports you to a sun-kissed orchard, surrounded by the uplifting aroma of sweet oranges.
Immerse yourself in the invigorating and energizing experience as the sweet orange-infused oil envelops your senses, revitalizing your mind and rejuvenating your spirit.
At SkyBox Skincare, we believe in the power of natural ingredients and their ability to transform your skincare routine. Our Orange Sherbet creation is free from harsh chemicals, ensuring that your skin receives only the gentlest and most effective care it deserves.
Experience the refreshing and replenishing benefits of our Orange Sherbet skincare creation. Unveil the radiant and revitalized skin that awaits you, as the harmonious blend of nature's finest ingredients works its magic.
Note: Our Orange Sherbet creation is for external use only. 
View full details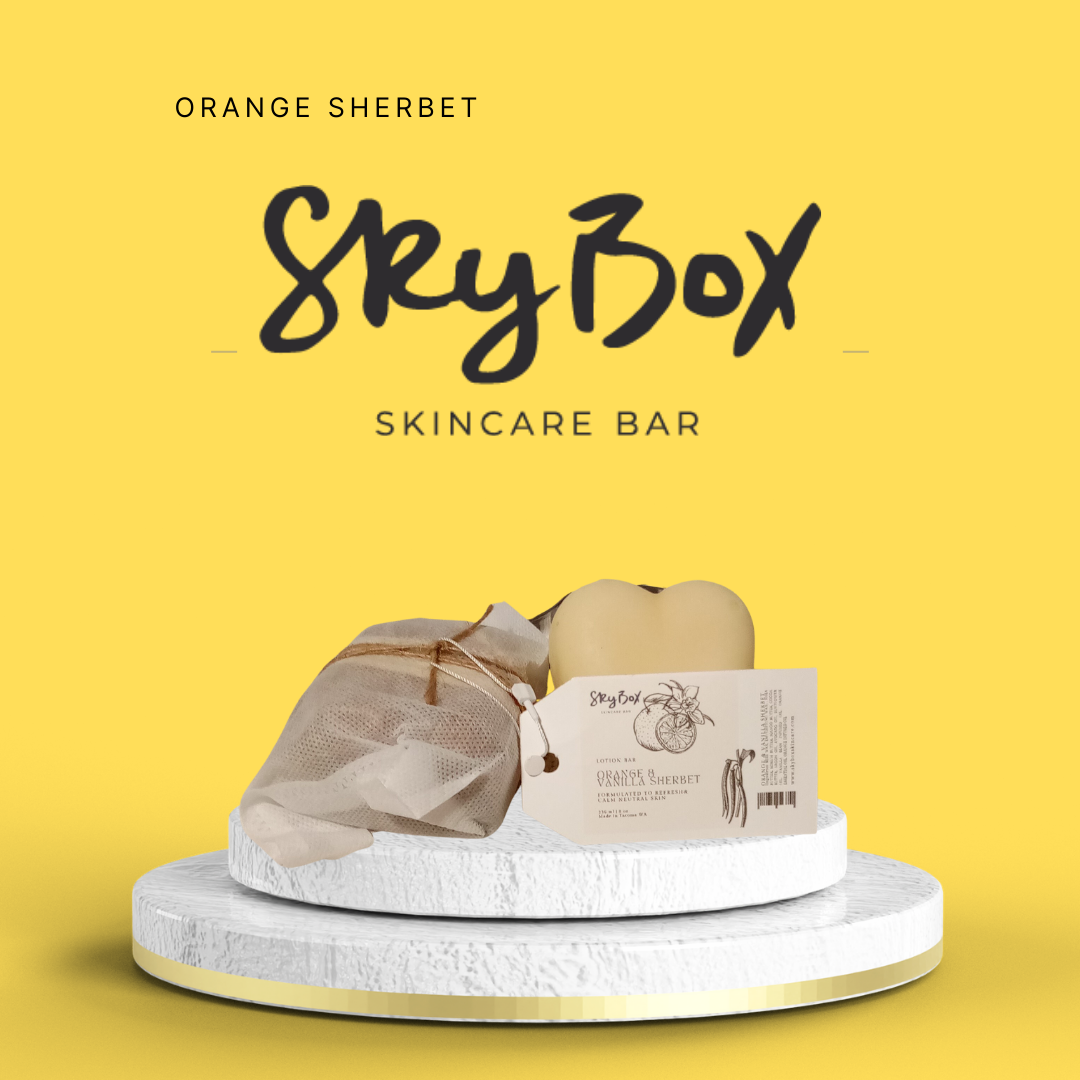 Wow!
This scent so far has been my absolute favorite. I will purchase it again and again.
You'll be captivated by the attention to detail and the luxurious experience that awaits.
We invite you to explore our curated collection of skincare essentials, from nourishing soaps and lotions to indulgent body creams and exfoliators. Each product is crafted with care and passion, ensuring that your self-care routine becomes a moment of blissful rejuvenation.
Discover the transformative power of Skybox Skincare Bar and elevate your skincare journey to new heights. Pamper yourself with the finest ingredients, exquisite textures, and captivating aromas. Embrace the beauty of self-care and let us be your trusted companion on the path to radiant, healthy skin.