Regular price
Sale price
$8.00 USD
Unit price
per
Sale
Sold out
Share
Restore Balance and Invigorate Your Skin with our Spearmint & Eucalyptus Sea Salt Scrub 🌿💦
Experience the revitalizing and harmonizing effects of our Spearmint & Eucalyptus Sea Salt Scrub. Specially formulated to neutralize combination skin, this scrub is designed to restore balance and invigorate your skin for a fresh and radiant complexion.
Infused with the natural goodness of Dead Sea Salt, Himalayan Sea Salt, and Epsom Salt, our scrub provides gentle exfoliation to remove impurities, unclog pores, and reveal smoother, healthier-looking skin. These mineral-rich salts help to detoxify and rejuvenate your skin, leaving it feeling refreshed and revitalized.
Our unique blend of ingredients includes Spearmint Infused Oil, Eucalyptus Infused Oil, Argon Oil, Sunflower Oil, and Avocado Oil. These nourishing oils work synergistically to hydrate and moisturize your skin, promoting a balanced and supple complexion.
Indulge your senses with the invigorating aroma of Spearmint and Eucalyptus. Let the refreshing and uplifting scent awaken your senses and create a spa-like experience in the comfort of your own home.
At SkyBox Skincare, we are committed to providing you with exceptional skincare products that deliver visible results. Our Spearmint & Eucalyptus Sea Salt Scrub is meticulously crafted to ensure the highest quality and effectiveness, so you can enjoy a luxurious and rejuvenating self-care experience.
Revitalize and invigorate your skin with our Spearmint & Eucalyptus Sea Salt Scrub. Embrace the power of nature's ingredients and let them restore balance to your complexion, giving you a renewed sense of confidence and well-being.
Each jar of our scrub is carefully prepared to provide you with the ultimate spa-like experience at home. Pamper yourself and enjoy the transformative benefits our scrub brings to your skincare routine.
Restore balance and awaken your skin with our Spearmint & Eucalyptus Sea Salt Scrub. Let its refreshing and revitalizing properties elevate your self-care routine and unveil your skin's natural radiance.
Note: Our Spearmint & Eucalyptus Sea Salt Scrub is formulated for external use only.
View full details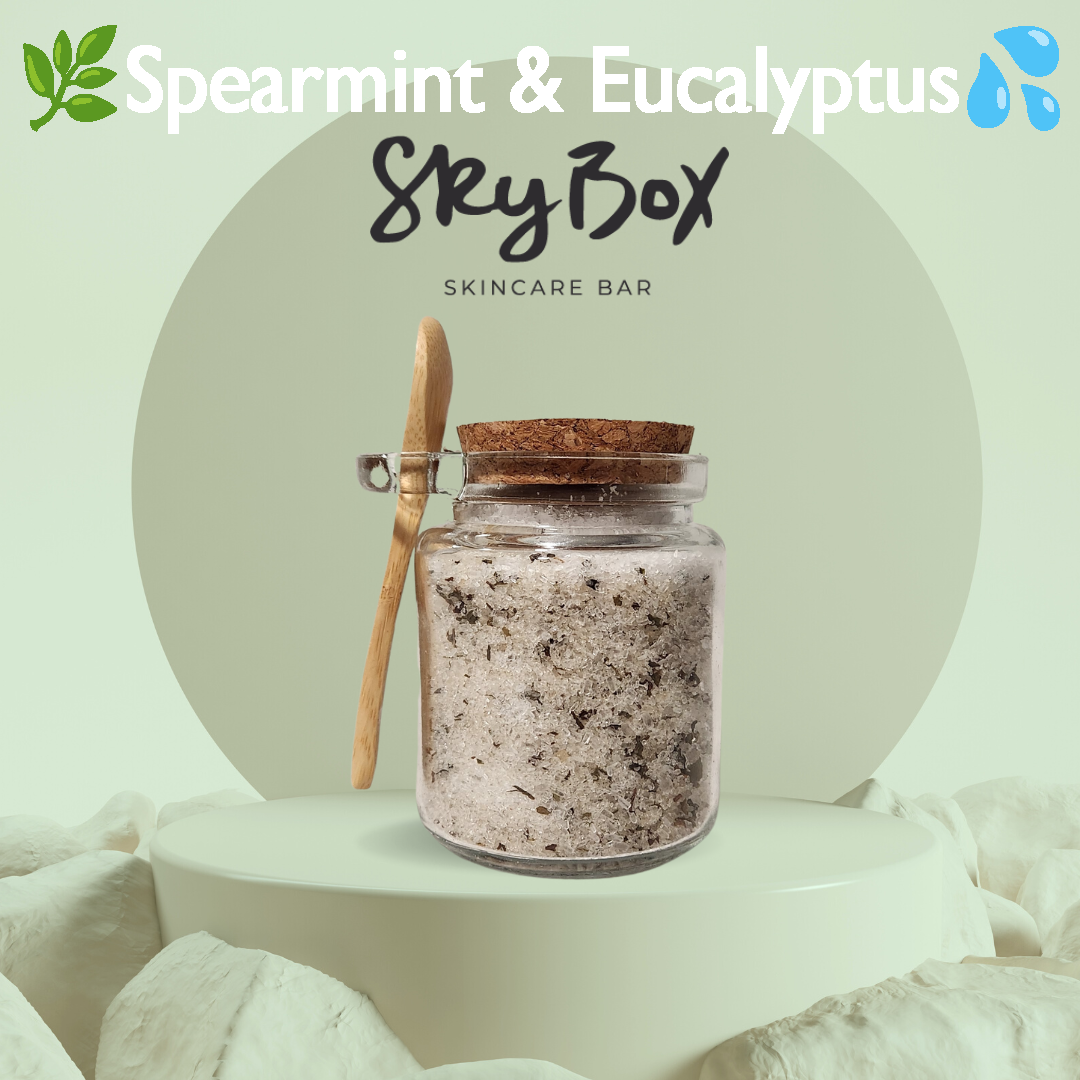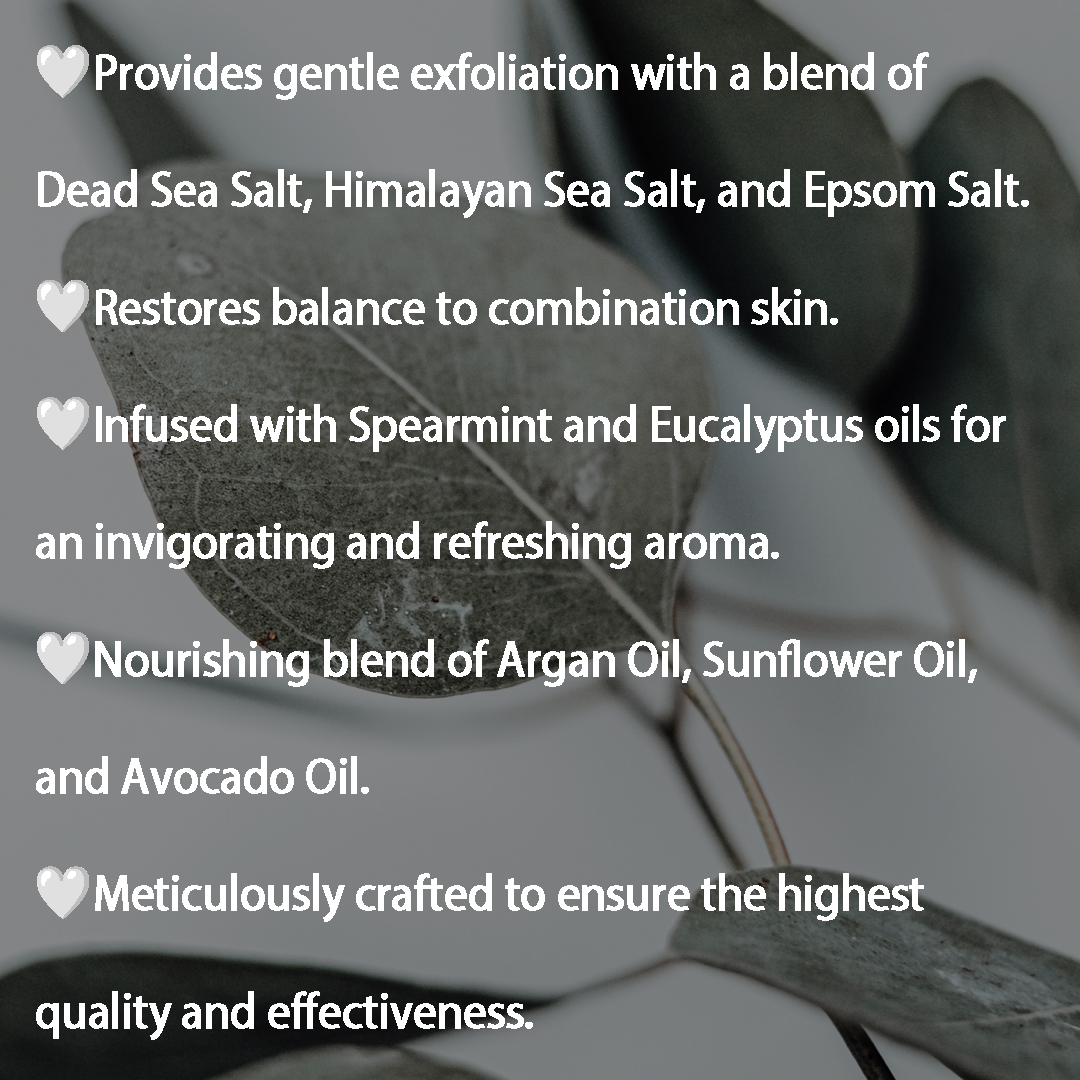 You'll be captivated by the attention to detail and the luxurious experience that awaits.
We invite you to explore our curated collection of skincare essentials, from nourishing soaps and lotions to indulgent body creams and exfoliators. Each product is crafted with care and passion, ensuring that your self-care routine becomes a moment of blissful rejuvenation.
Discover the transformative power of Skybox Skincare Bar and elevate your skincare journey to new heights. Pamper yourself with the finest ingredients, exquisite textures, and captivating aromas. Embrace the beauty of self-care and let us be your trusted companion on the path to radiant, healthy skin.