Regular price
Sale price
$8.00 USD
Unit price
per
Sale
Sold out
Share
Indulge in the Luxurious Delight of Rose Clay & Cocoa Butter Soap 🌹🍫
Treat your sensitive skin to the ultimate pampering experience with our Rose Clay & Cocoa Butter Soap. Specially crafted with care, this exquisite soap is designed to provide a gentle and soothing cleansing ritual for those with hyper-sensitive skin.
Enveloped in our signature goat's milk base, this soap delivers a luxurious and creamy lather that nourishes and hydrates your skin. Immerse yourself in the velvety texture and let the delicate touch of cocoa butter envelop your senses, leaving your skin feeling indulgently soft and moisturized.
The inclusion of Pink Clay adds a touch of elegance to this soap, providing gentle exfoliation and drawing out impurities from the skin. Its calming properties help to soothe and balance sensitive skin, promoting a more even and radiant complexion.
Our unique blend of Hydrating Oils, including nourishing cocoa butter, ensures that your skin receives an extra dose of moisturization with every use. Say goodbye to dryness and discomfort as the rich oils penetrate deep into the skin, leaving it feeling supple, smooth, and refreshed.
Designed with sensitivity in mind, our Rose Clay & Cocoa Butter Soap is unscented, making it ideal for those who prefer a fragrance-free option. Embrace the pure and natural goodness of this soap as it lovingly cares for your skin without any overpowering scents.
At SkyBox Skincare, we are committed to crafting skincare products that are gentle, nourishing, and safe for your skin. Our Rose Clay & Cocoa Butter Soap is free from harsh chemicals and additives, ensuring a nurturing and gentle cleanse every time.
Elevate your skincare routine with the indulgence of our Rose Clay & Cocoa Butter Soap. Immerse yourself in the luxurious experience and let your skin bask in the loving embrace of this gentle and nourishing soap.
Pamper your sensitive skin with the care it deserves. Experience the creamy texture, the nourishing properties, and the subtle elegance of our Rose Clay & Cocoa Butter Soap. Discover the joy of a soap that caters to your skin's unique needs and elevates your self-care routine to new heights.
Embrace the gentle caress of our Rose Clay & Cocoa Butter Soap and indulge in a moment of pure luxury for your sensitive skin. Let the creamy lather and delicate formulation provide the nourishment and care your skin craves.
Transform your daily cleansing routine into a luxurious ritual with our Rose Clay & Cocoa Butter Soap. Experience the beauty of gentle, nurturing skincare and revel in the bliss of a radiant and revitalized complexion.
Note: Our Rose Clay & Cocoa Butter Soap is for external use only.
View full details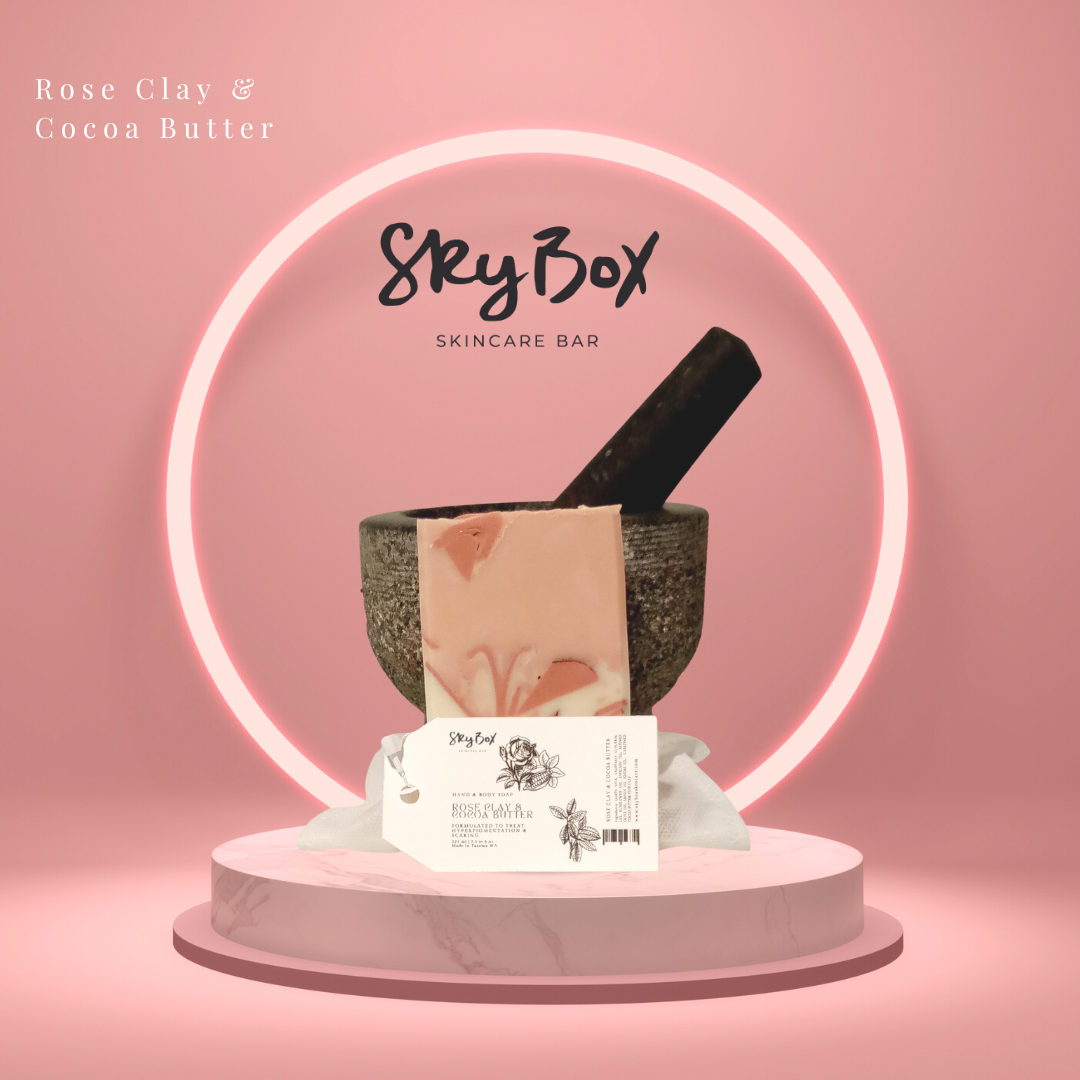 You'll be captivated by the attention to detail and the luxurious experience that awaits.
We invite you to explore our curated collection of skincare essentials, from nourishing soaps and lotions to indulgent body creams and exfoliators. Each product is crafted with care and passion, ensuring that your self-care routine becomes a moment of blissful rejuvenation.
Discover the transformative power of Skybox Skincare Bar and elevate your skincare journey to new heights. Pamper yourself with the finest ingredients, exquisite textures, and captivating aromas. Embrace the beauty of self-care and let us be your trusted companion on the path to radiant, healthy skin.