Regular price
Sale price
$13.00 USD
Unit price
per
Sale
Sold out
Share
Introducing Pineapple & Sea Salt Whipped Body Creme: Dive into a Tropical Oasis!
Experience the tantalizing scent of fresh pineapples combined with the refreshing essence of sea salt in our new Pineapple & Sea Salt Whipped Body Creme. This luxurious body creme is specially crafted to envelop your skin in hydration, leaving it nourished, supple, and delightfully scented.
Transport yourself to a tropical paradise with the invigorating aroma of juicy pineapples and the subtle hint of sea salt. The tropical fragrance awakens your senses and uplifts your mood, creating a blissful escape from the everyday hustle and bustle.
Our Pineapple & Sea Salt Whipped Body Creme is infused with a blend of nourishing ingredients, including shea butter, cocoa butter, and coconut oil. These rich emollients deeply moisturize your skin, while vitamins and antioxidants help to rejuvenate and promote a healthy-looking complexion.
The lightweight and velvety texture of the whipped body creme glides effortlessly onto your skin, absorbing quickly without any greasy residue. Feel the luxuriousness as it melts into your skin, leaving it feeling soft, smooth, and beautifully hydrated.
Key Features:
🍍 Tropical blend of fresh pineapples and sea salt 🌊 Provides deep hydration and nourishment 🍍 Enriched with shea butter, cocoa butter, and coconut oil 🌊 Delivers vitamins and antioxidants for skin rejuvenation 🍍 Lightweight and non-greasy formula for quick absorption 🌊 Perfect for all skin types
Indulge in the paradise-like experience with Pineapple & Sea Salt Whipped Body Creme and give your skin the care it deserves. Let the tropical aromas transport you to sandy beaches and crystal-clear waters while your skin revels in ultimate moisture.
Available now at SkyBox Skincare. Embrace the tropical oasis and treat yourself to the ultimate pampering. 🌴🛍️
View full details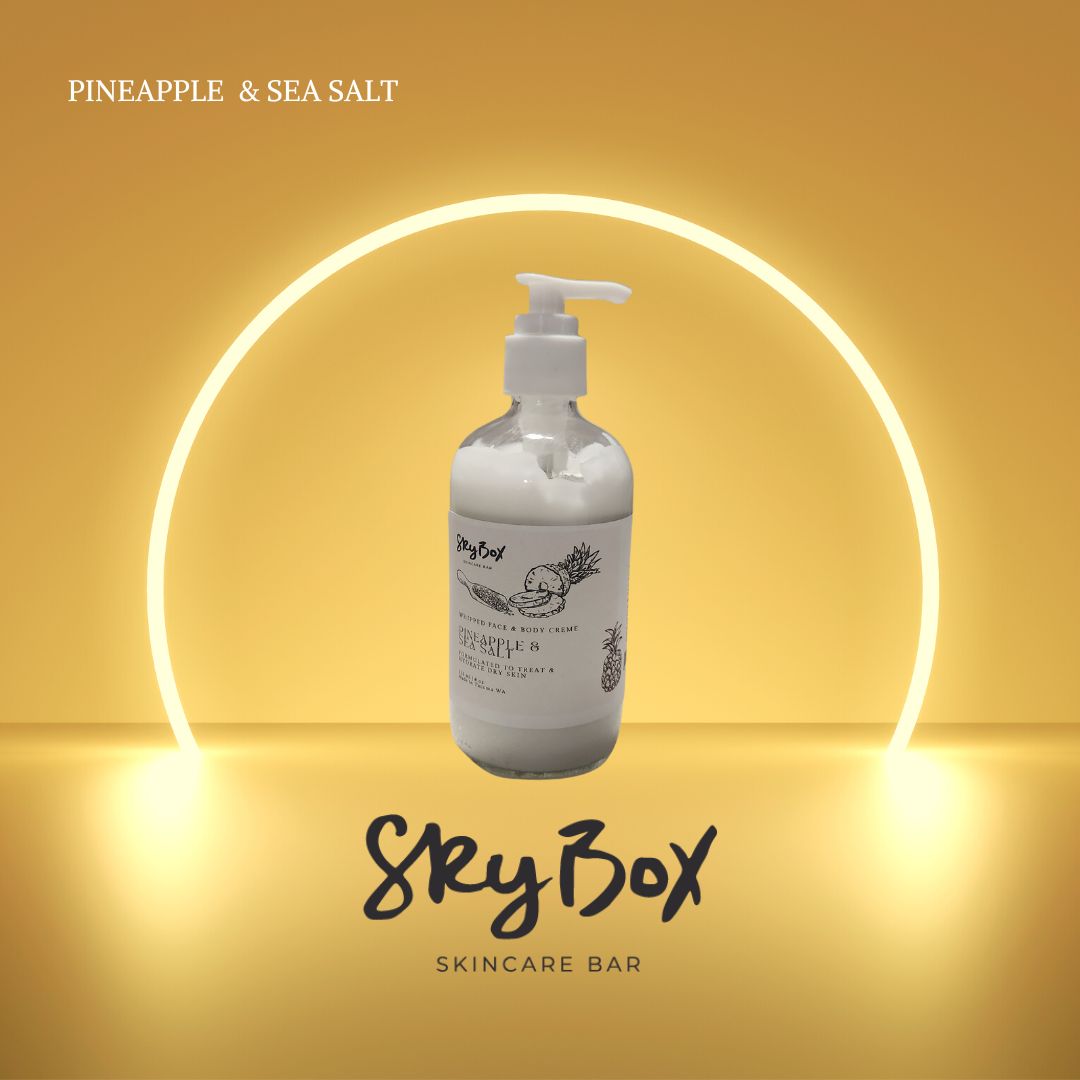 You'll be captivated by the attention to detail and the luxurious experience that awaits.
We invite you to explore our curated collection of skincare essentials, from nourishing soaps and lotions to indulgent body creams and exfoliators. Each product is crafted with care and passion, ensuring that your self-care routine becomes a moment of blissful rejuvenation.
Discover the transformative power of Skybox Skincare Bar and elevate your skincare journey to new heights. Pamper yourself with the finest ingredients, exquisite textures, and captivating aromas. Embrace the beauty of self-care and let us be your trusted companion on the path to radiant, healthy skin.