Regular price
Sale price
$13.00 USD
Unit price
per
Sale
Sold out
Share
🌹🍓 Experience the luxurious hydration and replenishment of Passionfruit & Rose, a specially formulated blend designed to nourish and revive dry skin. Indulge in the enchanting aroma of rose and the tropical essence of passionfruit as you treat your skin to the ultimate pampering experience.
🥛 Enriched with a combination of goat's milk, vegetable glycerin, kokum butter, cocoa butter, shea butter, refined olive oil, argan oil, jojoba oil, and emulsifying wax, Passionfruit & Rose provides deep hydration and replenishment to dry skin. These carefully selected ingredients work harmoniously to moisturize, soften, and restore your skin's natural moisture barrier.
🌺 The infusion of rose and passionfruit oils adds a delightful fragrance that uplifts the senses and enhances your skincare routine. Immerse yourself in the captivating aroma and let the luxurious blend transport you to a world of relaxation and self-care.
✨ With a generous net weight of 223ml/8oz, Passionfruit & Rose ensures you have an ample supply of this hydrating formula to indulge your skin's needs. Embrace the power of Passionfruit & Rose and experience the rejuvenating and replenishing effects it brings to your dry skin.
Net Weight: 223ml/8oz 🌹🍓 Rediscover the beauty of your dry skin with the nourishing blend of Passionfruit & Rose. Let the hydrating ingredients and captivating aromas revitalize and replenish your skin, leaving it feeling soft, supple, and rejuvenated. Embrace the power of this luxurious combination and immerse yourself in the indulgent world of Passionfruit & Rose.
View full details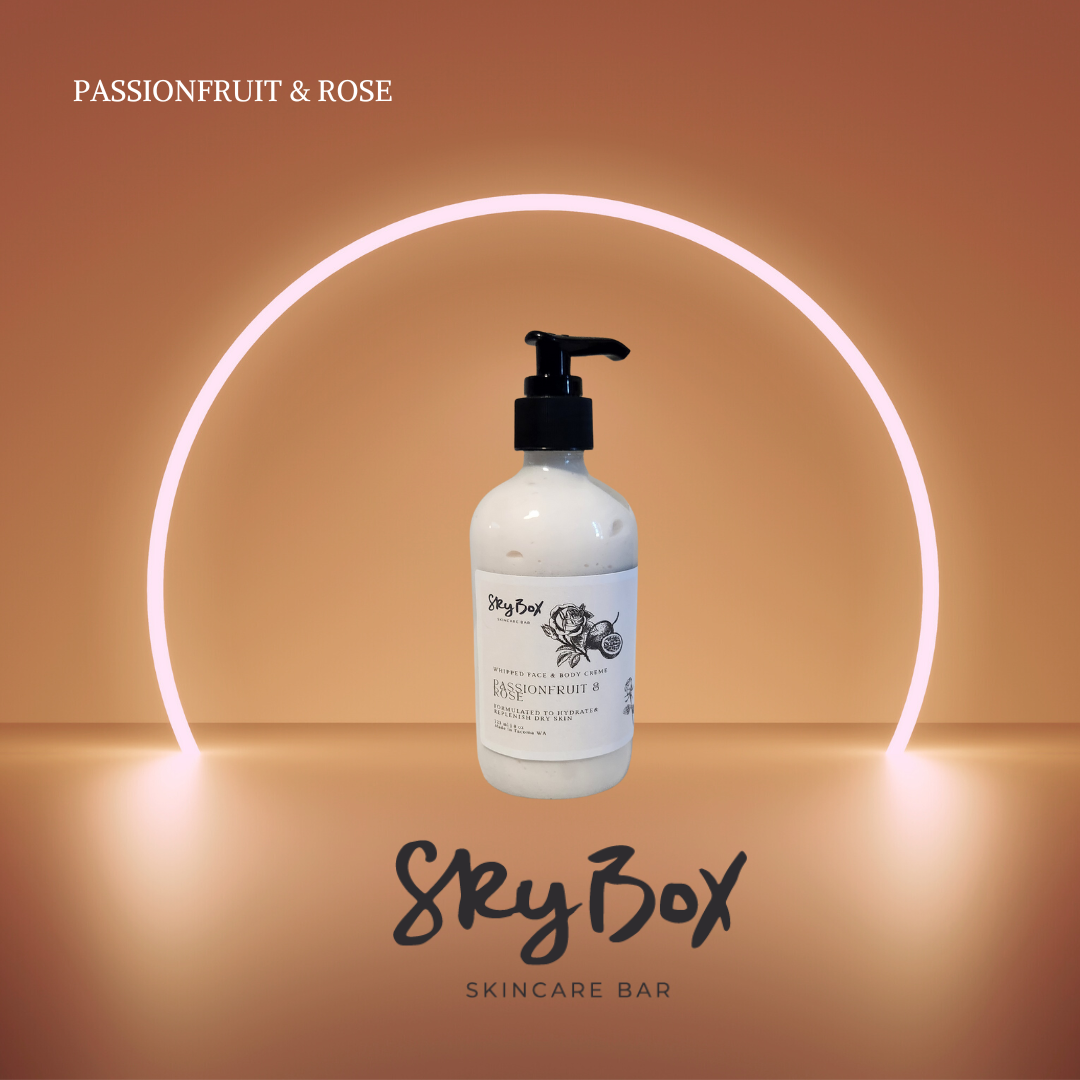 You'll be captivated by the attention to detail and the luxurious experience that awaits.
We invite you to explore our curated collection of skincare essentials, from nourishing soaps and lotions to indulgent body creams and exfoliators. Each product is crafted with care and passion, ensuring that your self-care routine becomes a moment of blissful rejuvenation.
Discover the transformative power of Skybox Skincare Bar and elevate your skincare journey to new heights. Pamper yourself with the finest ingredients, exquisite textures, and captivating aromas. Embrace the beauty of self-care and let us be your trusted companion on the path to radiant, healthy skin.