Regular price
Sale price
$8.00 USD
Unit price
per
Sale
Sold out
Share
Introducing Papaya & Mango Goat's Milk Soap: A Tropical Delight for Your Skin!
Experience the tropical oasis with our new Papaya & Mango Goat's Milk Soap. This luxurious soap is infused with the luscious aroma of ripe papaya and juicy mangoes, transporting your senses to a sunny paradise while providing your skin with gentle care and nourishment.
Indulge in the exotic fragrance that fills the air as you lather up with our Papaya & Mango Goat's Milk Soap. The sweet and tangy notes of papaya blend harmoniously with the tropical essence of mango, creating a tantalizing scent that invigorates your senses and leaves you feeling refreshed and rejuvenated.
Formulated with the finest ingredients, including creamy goat's milk renowned for its moisturizing and soothing properties, our Papaya & Mango Goat's Milk Soap cleanses your skin while helping to maintain its natural moisture balance. The rich and creamy lather envelops your skin, leaving it feeling soft, supple, and beautifully nourished.
Papaya, known for its natural enzymes and antioxidants, gently exfoliates the skin, helping to remove dead skin cells and revealing a smoother, more radiant complexion. Mango, with its abundance of vitamins and minerals, provides deep hydration and helps to improve the overall texture and appearance of the skin.
Key Features:
🌴 Tropical fusion of papaya and mango 🥭 Enriched with creamy goat's milk for deep moisturization 🌴 Papaya gently exfoliates for a smoother complexion 🥭 Mango provides hydration and improves skin texture 🌴 Creamy lather for a luxurious bathing experience 🥭 Leaves skin feeling soft, supple, and nourished
Immerse yourself in the tropical paradise of Papaya & Mango Goat's Milk Soap. Let the enticing fragrance transport you to a blissful getaway, while the creamy lather and nourishing properties of goat's milk pamper your skin.
Treat yourself or someone special to the luxurious indulgence of Papaya & Mango Goat's Milk Soap. Available now at SkyBox Skincare, where tropical delight meets gentle skincare. 🌴🥭🛁
View full details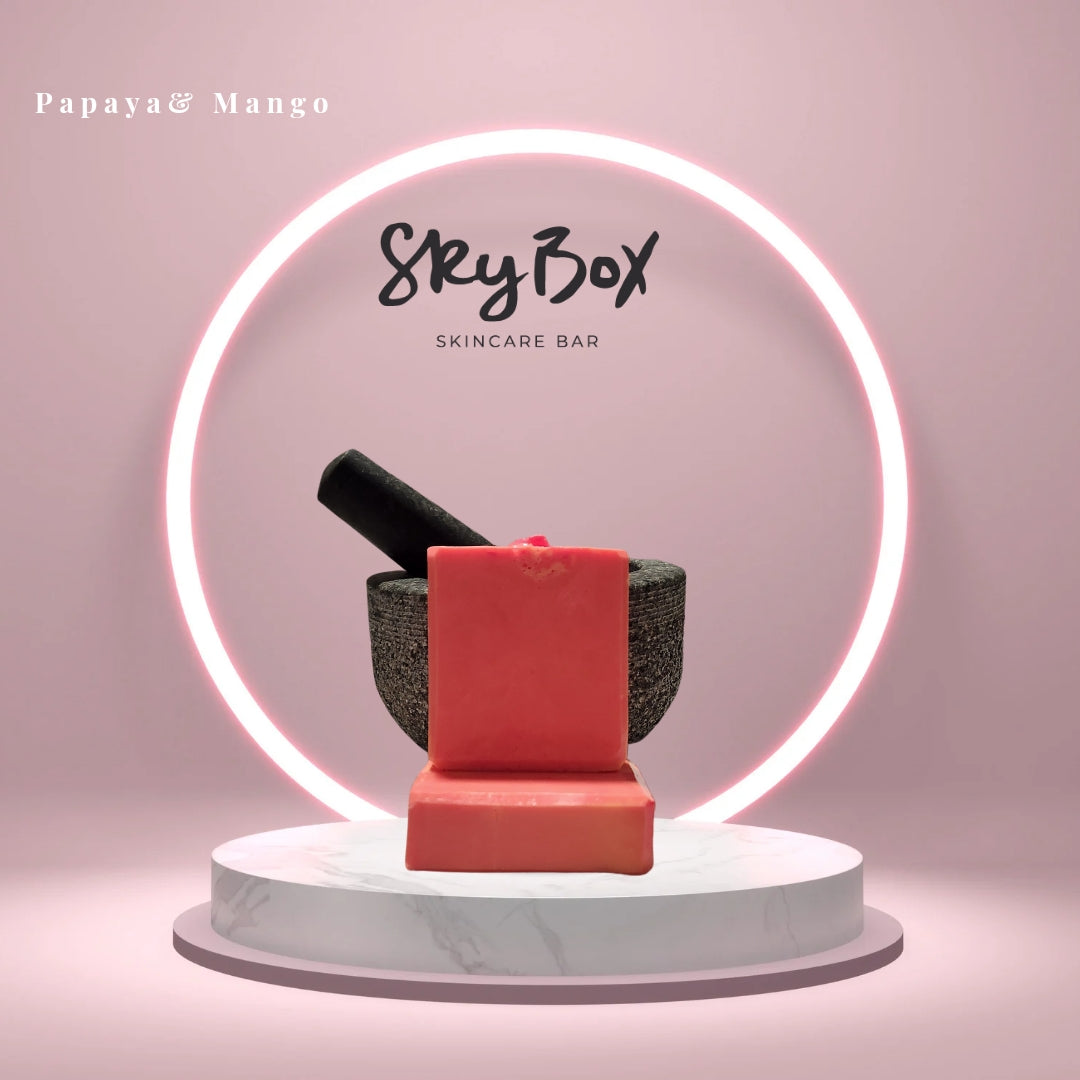 You'll be captivated by the attention to detail and the luxurious experience that awaits.
We invite you to explore our curated collection of skincare essentials, from nourishing soaps and lotions to indulgent body creams and exfoliators. Each product is crafted with care and passion, ensuring that your self-care routine becomes a moment of blissful rejuvenation.
Discover the transformative power of Skybox Skincare Bar and elevate your skincare journey to new heights. Pamper yourself with the finest ingredients, exquisite textures, and captivating aromas. Embrace the beauty of self-care and let us be your trusted companion on the path to radiant, healthy skin.