Regular price
Sale price
$13.00 USD
Unit price
per
Sale
Sold out
Share
🌾🍯 Treat your oily and acne-prone skin with our Oatmeal Milk & Honey Facial Moisturizer. Specially formulated to target and balance your skin, this nourishing moisturizer is made with a blend of goat's milk, vegetable glycerin, emulsifying wax, kokum butter, mango butter, coconut oil, shea butter, jojoba oil, refined olive oil, argan oil, distilled water, powdered honey, and oatmeal milk.
💦✨ Experience the lightweight and non-greasy texture of our moisturizer as it effortlessly absorbs into your skin. The carefully selected ingredients work in harmony to moisturize and hydrate your skin, while providing essential nutrients to help soothe and improve the appearance of oily and acne-prone skin.
🍯🌾 The infusion of powdered honey and oatmeal milk adds additional benefits to our moisturizer. Honey has natural antibacterial properties that help combat acne-causing bacteria, while oatmeal milk soothes irritation and reduces inflammation, promoting a calmer and clearer complexion.
🌿 Our Oatmeal Milk & Honey Facial Moisturizer is designed to provide optimal hydration without clogging pores. It helps balance excess oil production, leaving your skin feeling nourished, balanced, and refreshed.
💧💫 Embrace the soothing and comforting scent of oatmeal and honey as you massage our moisturizer onto your skin. Create a moment of self-care and indulge in the gentle and rejuvenating properties it offers.
Net Weight: 223ml/8oz 🌾🍯 Restore balance and nourish your oily and acne-prone skin with our Oatmeal Milk & Honey Facial Moisturizer. Let the natural goodness of goat's milk, honey, and oatmeal milk work their magic, leaving your skin feeling moisturized, balanced, and beautifully radiant.
View full details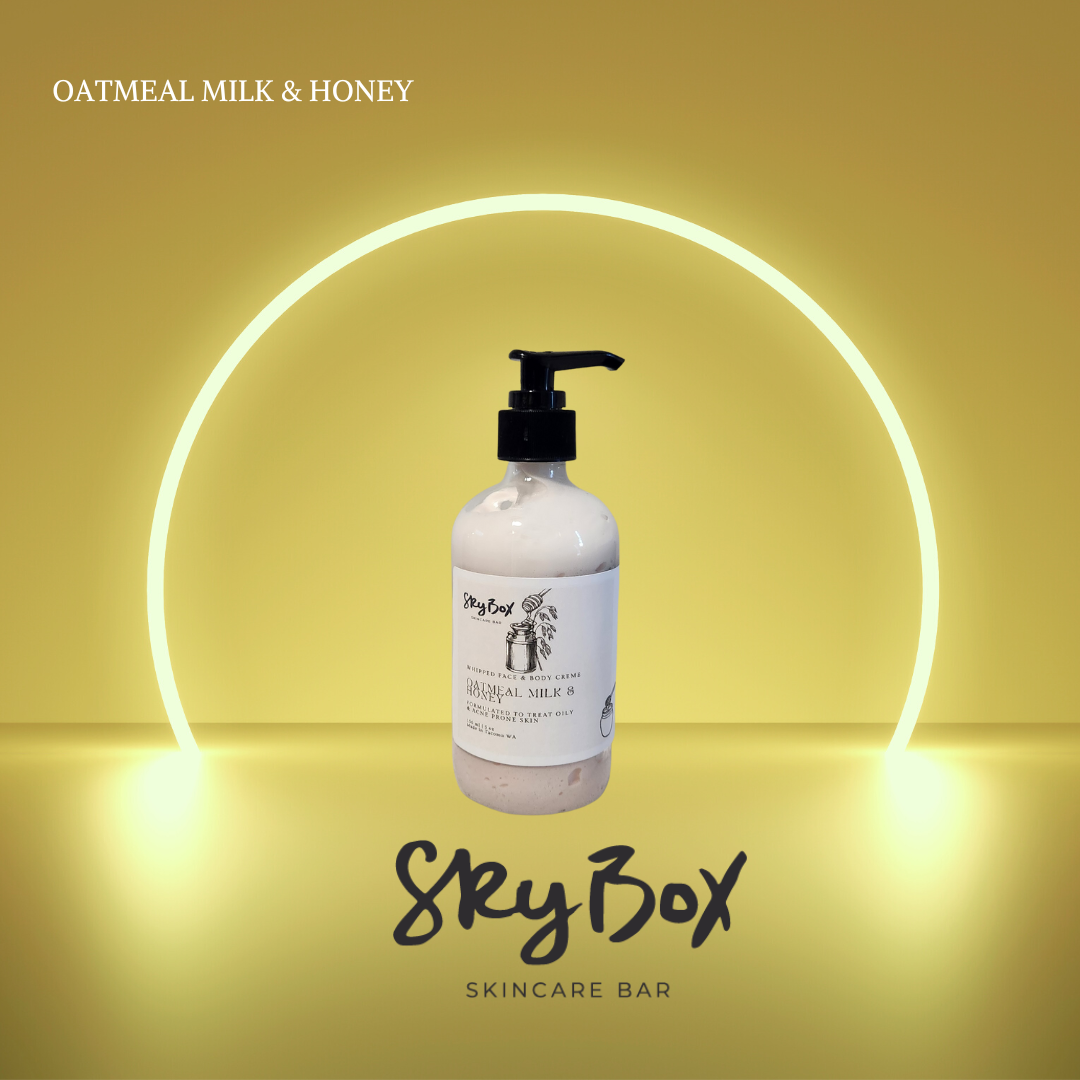 You'll be captivated by the attention to detail and the luxurious experience that awaits.
We invite you to explore our curated collection of skincare essentials, from nourishing soaps and lotions to indulgent body creams and exfoliators. Each product is crafted with care and passion, ensuring that your self-care routine becomes a moment of blissful rejuvenation.
Discover the transformative power of Skybox Skincare Bar and elevate your skincare journey to new heights. Pamper yourself with the finest ingredients, exquisite textures, and captivating aromas. Embrace the beauty of self-care and let us be your trusted companion on the path to radiant, healthy skin.