Regular price
Sale price
$8.00 USD
Unit price
per
Sale
Sold out
Share
Introducing our captivating Mulberry & Grapefruit Goat's Milk Bar Soap - a burst of nature's energy in every lather! 🍇🍊
🌿 Immerse yourself in the invigorating fusion of juicy mulberries and zesty grapefruit, carefully combined to create a harmonious blend that awakens your senses and revitalizes your skin. This bar soap is a true testament to the power of nature's bounty, offering you a refreshing escape each time you step into your shower or bath.
🥥 Enriched with the nourishing goodness of goat's milk, this soap not only cleanses but also pampers your skin, leaving it feeling soft, smooth, and replenished. The creamy lather and luxurious fragrance make each wash a moment of self-care, helping you unwind and embrace the joy of a simple yet indulgent ritual.
🌞 Let the invigorating scent of mulberries and grapefruit uplift your spirits, while the gentle touch of goat's milk moisturizes and soothes your skin. Our Mulberry & Grapefruit Goat's Milk Bar Soap is a harmonious symphony of nature's best, beautifully crafted to bring you a refreshing and revitalizing bathing experience.
Indulge in the refreshing fusion of Mulberry & Grapefruit and let your skin glow with radiance. 🌟🛁
#MulberryGrapefruitSoap #NaturalSkincare #RefreshAndRevitalize #GoatsMilkGoodness #ElevateYourRoutine #SelfCareDelights
View full details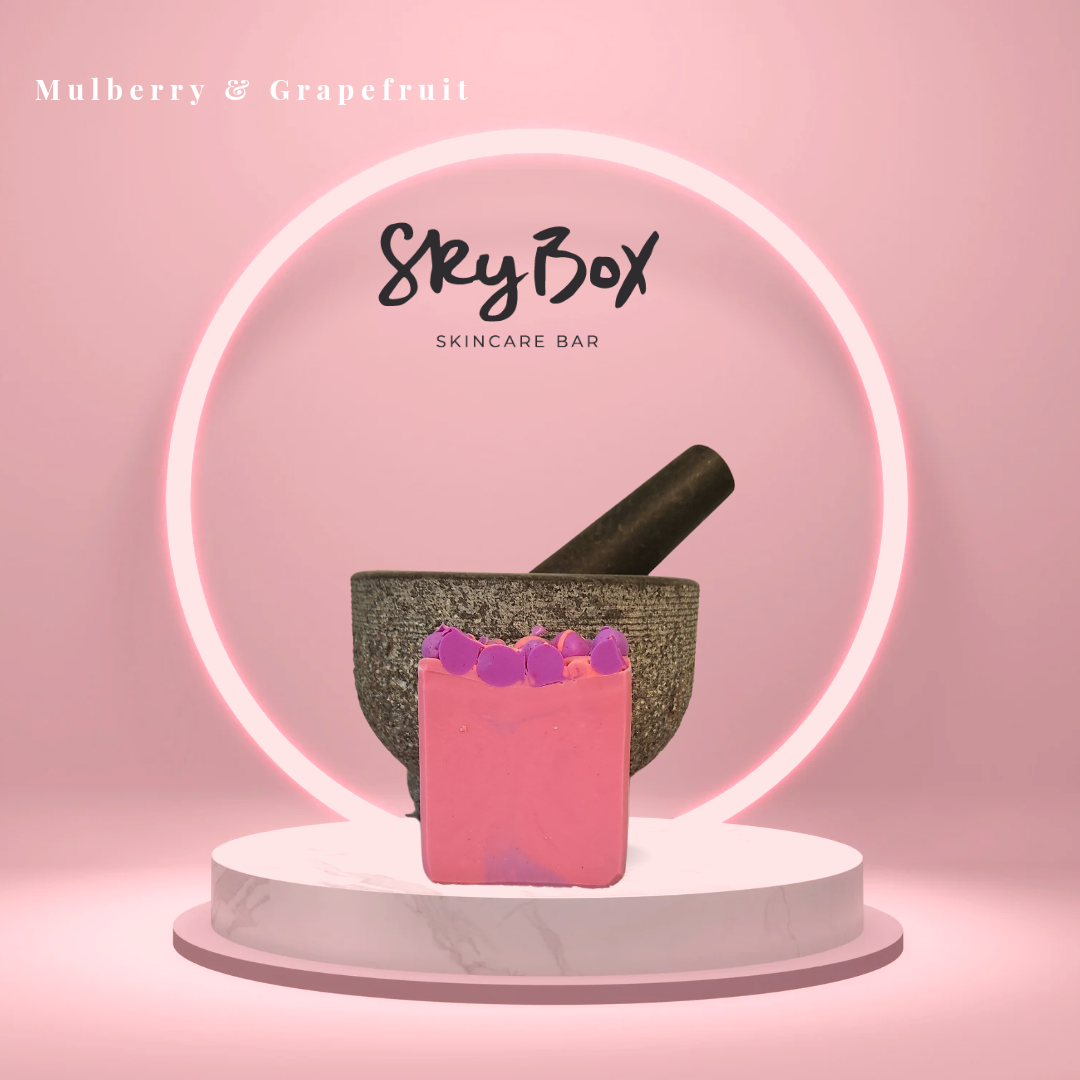 You'll be captivated by the attention to detail and the luxurious experience that awaits.
We invite you to explore our curated collection of skincare essentials, from nourishing soaps and lotions to indulgent body creams and exfoliators. Each product is crafted with care and passion, ensuring that your self-care routine becomes a moment of blissful rejuvenation.
Discover the transformative power of Skybox Skincare Bar and elevate your skincare journey to new heights. Pamper yourself with the finest ingredients, exquisite textures, and captivating aromas. Embrace the beauty of self-care and let us be your trusted companion on the path to radiant, healthy skin.