Regular price
Sale price
$13.00 USD
Unit price
per
Sale
Sold out
Share
Revitalize and Replenish Your Skin with Mango & Melon Whipped Body Crem'e 🥭🍉
Indulge your skin in a luscious and rejuvenating experience with our Mango & Melon Whipped Body Crem'e. Specially formulated to treat dry skin, this luxurious body crem'e is crafted with a blend of nourishing ingredients to provide intense hydration and a radiant glow.
Enriched with the goodness of goat's milk and vegetable glycerin, our whipped body crem'e deeply moisturizes and soothes dry skin, restoring its natural moisture balance. The combination of kokum butter, coconut oil, and jojoba oil creates a rich and creamy texture that effortlessly glides on your skin, leaving it feeling silky-smooth and supple.
We've harnessed the nourishing powers of shea butter and mango butter to deliver an extra boost of hydration and protection. These luxurious butters melt into your skin, replenishing moisture and leaving a soft and velvety finish. The emulsifying wax ensures the crem'e absorbs quickly without leaving any greasy residue behind.
Infused with the irresistible scents of mango and melon, our Mango & Melon Whipped Body Crem'e invigorates your senses and envelops you in a tropical oasis. It's a delightful fusion of juicy mangoes and refreshing melons, transporting you to a blissful getaway with every application.
To enhance the benefits further, we've incorporated mango-infused oil, watermelon-infused oil, and cantaloupe-infused oil. These botanical extracts are rich in vitamins and antioxidants, providing nourishment to your skin and promoting a healthy and radiant complexion.
With its lightweight yet deeply hydrating formula, our Mango & Melon Whipped Body Crem'e absorbs quickly, leaving your skin feeling revitalized and intensely moisturized. It's the perfect solution for dry skin, helping to alleviate dryness, flakiness, and dullness, and revealing a renewed and youthful glow.
As with all our products, our Mango & Melon Whipped Body Crem'e is crafted with care, free from harsh chemicals, parabens, and artificial additives. We believe in harnessing the power of nature to deliver skincare that is gentle, effective, and luxurious.
Pamper yourself with the tropical indulgence of our Mango & Melon Whipped Body Crem'e and experience the joy of silky-smooth and beautifully hydrated skin. Embrace the delightful combination of mango and melon, and let your senses embark on a rejuvenating journey.
Note: For external use only.
View full details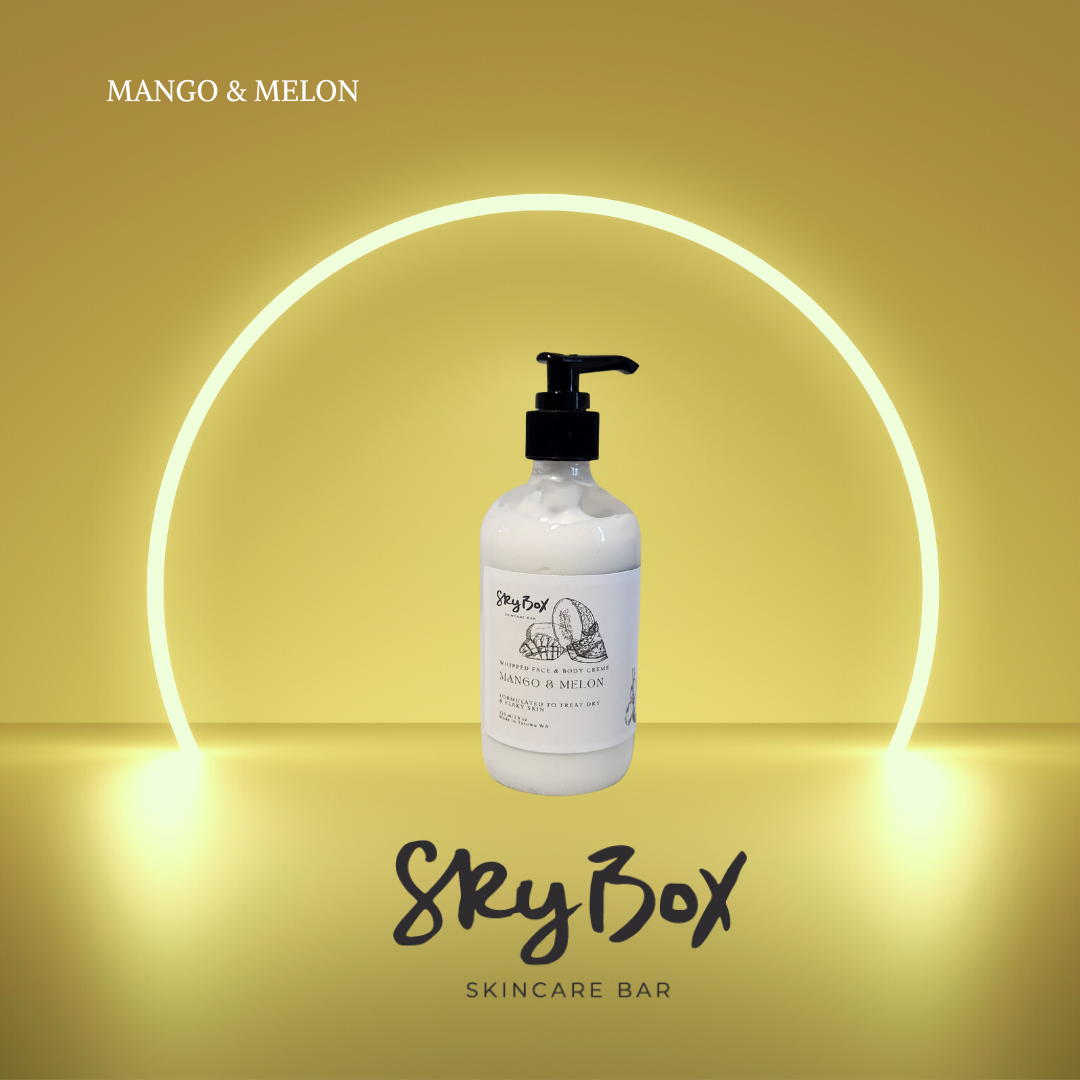 You'll be captivated by the attention to detail and the luxurious experience that awaits.
We invite you to explore our curated collection of skincare essentials, from nourishing soaps and lotions to indulgent body creams and exfoliators. Each product is crafted with care and passion, ensuring that your self-care routine becomes a moment of blissful rejuvenation.
Discover the transformative power of Skybox Skincare Bar and elevate your skincare journey to new heights. Pamper yourself with the finest ingredients, exquisite textures, and captivating aromas. Embrace the beauty of self-care and let us be your trusted companion on the path to radiant, healthy skin.