Regular price
Sale price
$5.50 USD
Unit price
per
Sale
Sold out
Share
Say Goodbye to Oily Skin with Lavender & Lemon 🌿🍋
Introducing our Lavender & Lemon skincare creation, specially formulated to treat oily and acne-prone skin. Crafted with care and infused with powerful natural ingredients, this skincare marvel is here to revolutionize your daily routine and unveil a healthier, clearer complexion.
Enriched with the goodness of goat's milk, vegetable glycerin, and a carefully selected blend of oils, our Lavender & Lemon formulation works wonders in restoring balance to your skin. Goat's milk gently cleanses and nourishes, while vegetable glycerin helps retain moisture for a hydrated and supple complexion.
Harnessing the benefits of lemon-infused oil, this creation targets excess oil and assists in controlling sebum production, resulting in a more balanced and less oily appearance. Lavender-infused oil and lavender essential oil work in harmony to soothe and calm the skin, reducing the appearance of acne and promoting a clearer complexion.
The unique blend of argan oil, olive oil, sunflower oil, avocado oil, and jojoba oil provides a luxurious and nutrient-rich base for our Lavender & Lemon creation. These oils deeply moisturize and hydrate your skin, while the mica colorant adds a touch of vibrancy and joy to your skincare routine.
To enhance the exfoliating benefits, our creation is embedded with an organically grown, hand-picked, and dehydrated loofah sponge. This natural exfoliator gently removes dead skin cells, unclogs pores, and reveals a fresh, rejuvenated complexion.
Experience the refreshing and invigorating aroma of lavender and lemon as you indulge in a transformative skincare experience. Say goodbye to oily skin and hello to a brighter, healthier-looking you with our Lavender & Lemon skincare creation.
At SkyBox Skincare, we are committed to harnessing the power of nature to deliver effective and gentle skincare solutions. Our Lavender & Lemon creation is crafted with care and free from harsh chemicals, allowing you to embrace a skincare routine that nurtures and rejuvenates your skin.
Unleash the magic of Lavender & Lemon and embark on a journey towards clearer, healthier skin. Try our skincare creation today and experience the difference it can make for your complexion.
Note: For external use only.
View full details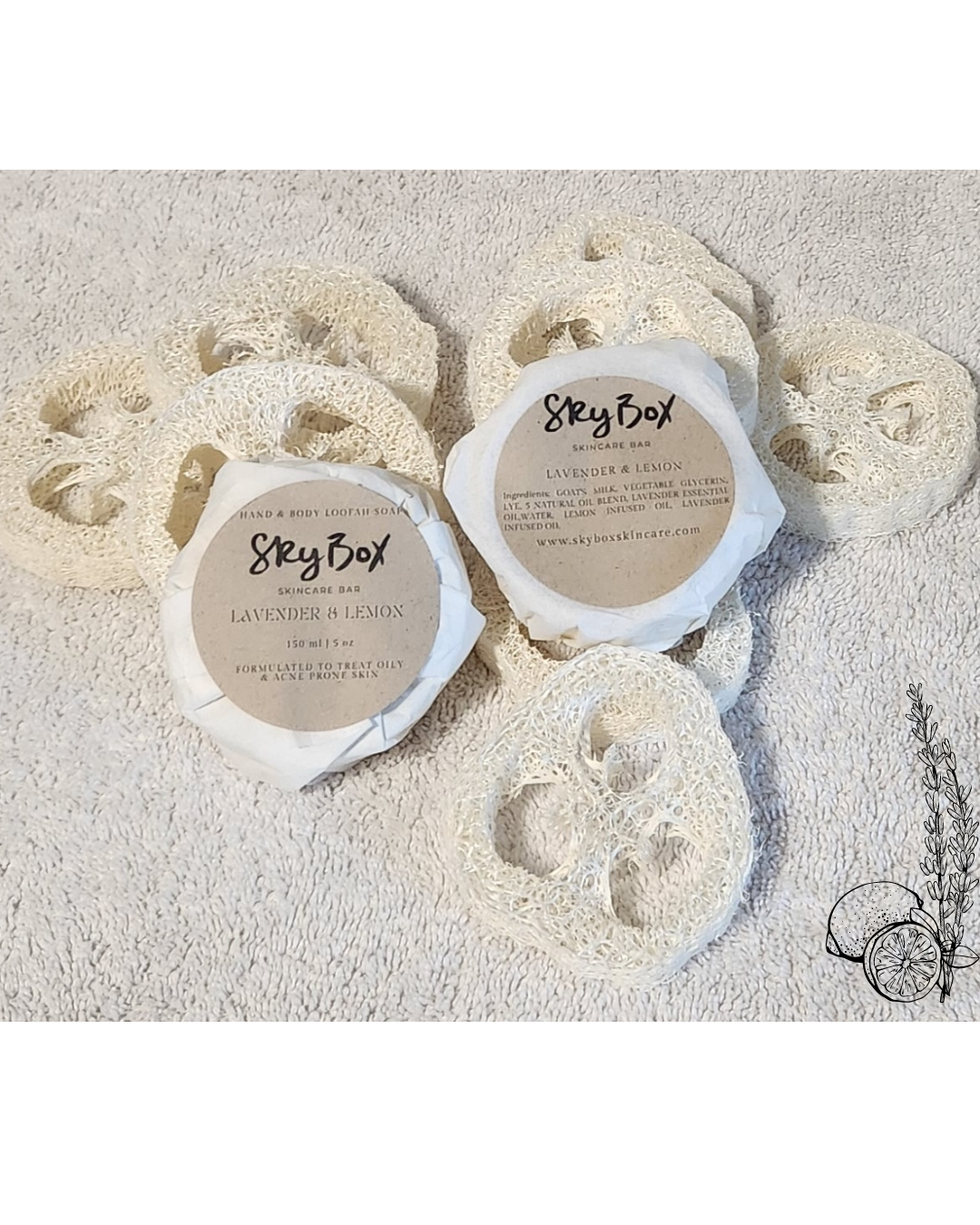 You'll be captivated by the attention to detail and the luxurious experience that awaits.
We invite you to explore our curated collection of skincare essentials, from nourishing soaps and lotions to indulgent body creams and exfoliators. Each product is crafted with care and passion, ensuring that your self-care routine becomes a moment of blissful rejuvenation.
Discover the transformative power of Skybox Skincare Bar and elevate your skincare journey to new heights. Pamper yourself with the finest ingredients, exquisite textures, and captivating aromas. Embrace the beauty of self-care and let us be your trusted companion on the path to radiant, healthy skin.