Regular price
Sale price
$8.00 USD
Unit price
per
Sale
Sold out
Share
Revive and Nourish Your Skin with Green Tea & Aloe Vera 🌿🌼
Indulge your skin in the soothing and replenishing benefits of our Green Tea & Aloe Vera Moisturizing Lotion. Formulated to hydrate and rejuvenate dry skin, this luxurious lotion is designed to give your skin the care it deserves.
Infused with the natural goodness of Vegetable Glycerin, Argon Oil, Refined Olive Oil, Avocado Oil, and Sunflower Oil, our moisturizing lotion provides deep hydration, leaving your skin feeling soft, supple, and revitalized. These nourishing oils work together to replenish moisture and restore the natural balance of your skin.
Experience the soothing power of Green Tea Infused Oil and Aloe Vera Infused Oil. These potent ingredients are known for their hydrating and calming properties, helping to reduce dryness and irritation. Enriched with Aloe Vera Powder, our lotion provides an extra boost of soothing hydration for a refreshed and rejuvenated complexion.
Our Green Tea & Aloe Vera Moisturizing Lotion is carefully crafted to deliver a lightweight and non-greasy formula that absorbs quickly, leaving no residue behind. Enjoy the silky-smooth texture as it glides effortlessly onto your skin, providing long-lasting moisture and protection.
Let the vibrant and refreshing scent of green tea awaken your senses while the soothing aroma of aloe vera calms your mind. Embrace the harmonious blend of nature's botanicals and indulge in a moment of pure relaxation and self-care.
At SkyBox Skincare, we are dedicated to creating skincare products that are not only effective but also safe for your skin and the environment. Our Green Tea & Aloe Vera Moisturizing Lotion is free from harmful chemicals and harsh additives, ensuring a gentle and nurturing experience for your skin.
Transform your skincare routine with the hydrating and replenishing power of Green Tea & Aloe Vera. Let this soothing duo work their magic and restore your skin's natural radiance and vitality.
Experience the ultimate hydration and nourishment for your dry skin with our Green Tea & Aloe Vera Moisturizing Lotion. Pamper yourself with the luxurious feel and rejuvenating benefits it brings to your daily skincare ritual.
Give your skin the care it deserves with our Green Tea & Aloe Vera Moisturizing Lotion. Embrace the revitalizing power of nature and enjoy a complexion that feels hydrated, replenished, and beautifully radiant.
Note: Our Green Tea & Aloe Vera Moisturizing Lotion is for external use only.
View full details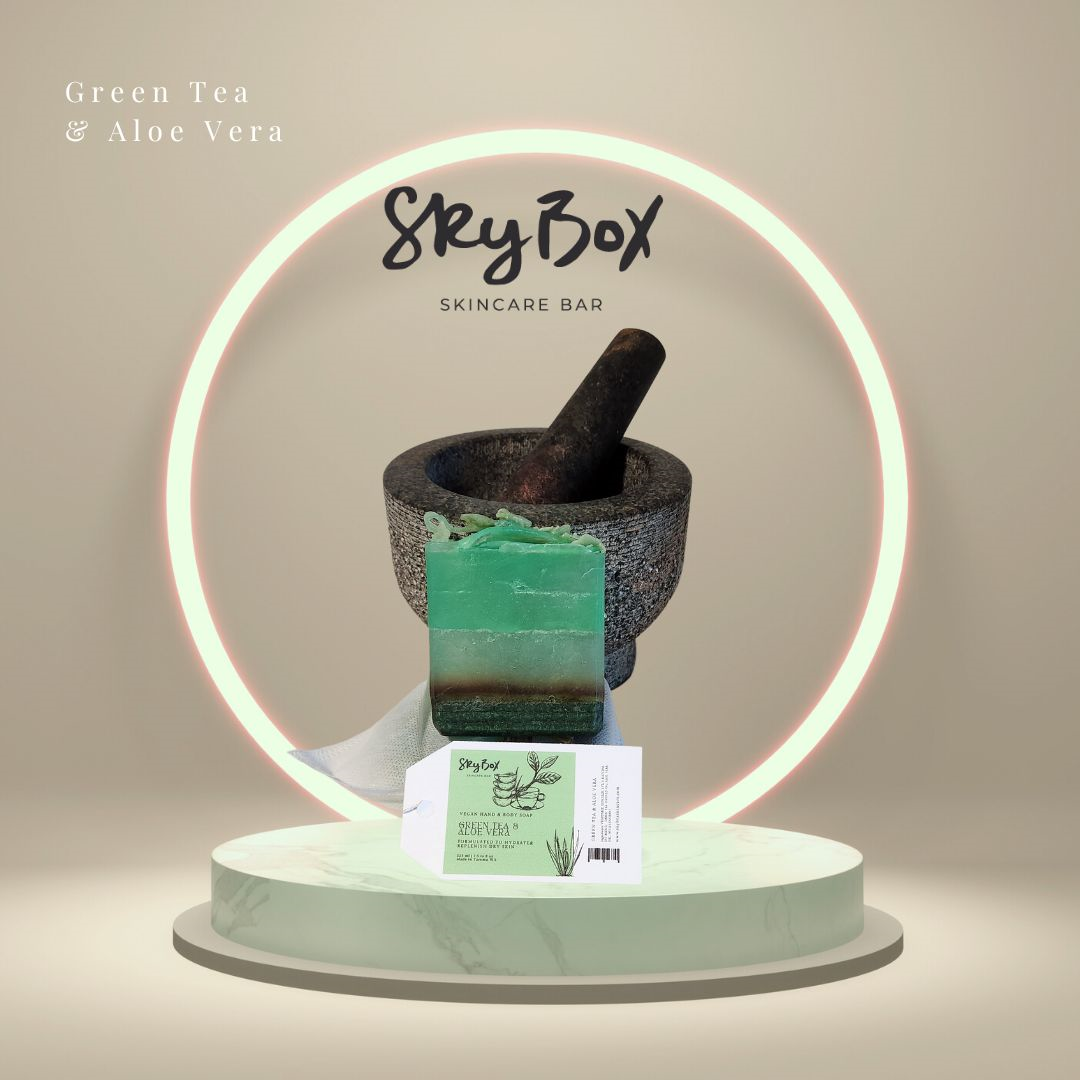 Love it
Soft and subtle scent! Perfect for sensitive skin.
You'll be captivated by the attention to detail and the luxurious experience that awaits.
We invite you to explore our curated collection of skincare essentials, from nourishing soaps and lotions to indulgent body creams and exfoliators. Each product is crafted with care and passion, ensuring that your self-care routine becomes a moment of blissful rejuvenation.
Discover the transformative power of Skybox Skincare Bar and elevate your skincare journey to new heights. Pamper yourself with the finest ingredients, exquisite textures, and captivating aromas. Embrace the beauty of self-care and let us be your trusted companion on the path to radiant, healthy skin.