Regular price
Sale price
$5.50 USD
Unit price
per
Sale
Sold out
Share
Introducing 🥒 Cucumber & Honeydew, a specialized formulation designed to treat dry and flaky skin. Experience the soothing and nourishing benefits of this carefully crafted blend, created to restore moisture and rejuvenate your complexion.
Infused with the hydrating properties of 🐐 goat's milk and vegetable glycerin, Cucumber & Honeydew works to replenish and moisturize your skin, providing relief from dryness and flakiness. The infusion of 🥒 cucumber oil and 🍈 honeydew melon oil adds a refreshing touch, delivering vital nutrients and antioxidants to promote healthy-looking skin.
This formulation also includes a blend of nourishing oils, including 🌿 argan oil, olive oil, sunflower oil, avocado oil, and jojoba oil. These oils work together to deeply moisturize and soften your skin, helping to improve its texture and restore a smooth and supple appearance.
To enhance the exfoliating properties of this formulation, Cucumber & Honeydew is embedded with an organically grown, hand-picked, and dehydrated loofah sponge. This natural exfoliator gently buffs away dead skin cells, promoting a renewed and radiant complexion. 🌟
Cucumber & Honeydew comes in a net weight of 150ml/5oz, providing you with an ample supply to incorporate into your skincare routine. Treat your dry and flaky skin to the nourishing benefits of 🥒 Cucumber & Honeydew and enjoy a revitalized and rejuvenated complexion.
Net Weight: 150ml/5oz 🌼
View full details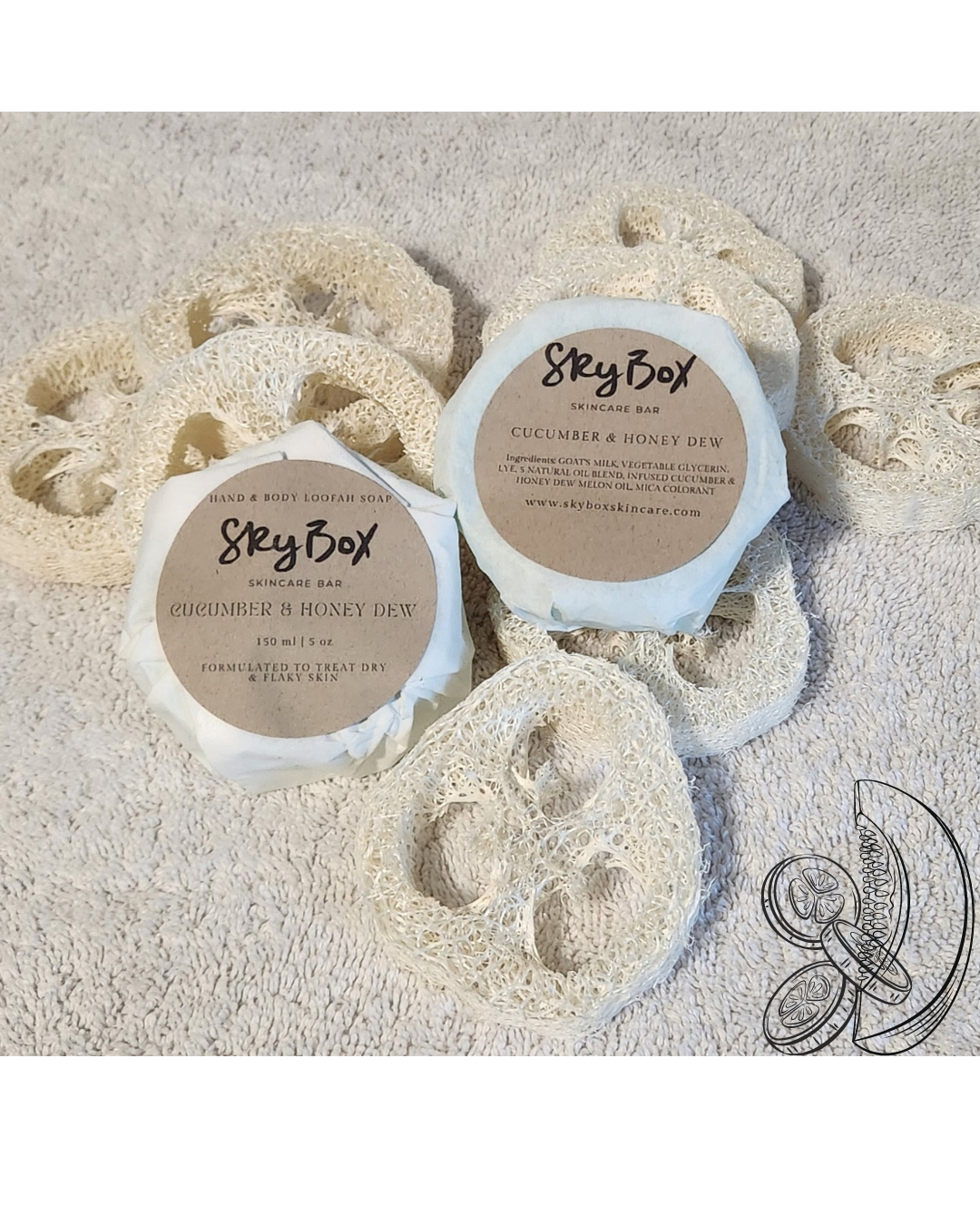 You'll be captivated by the attention to detail and the luxurious experience that awaits.
We invite you to explore our curated collection of skincare essentials, from nourishing soaps and lotions to indulgent body creams and exfoliators. Each product is crafted with care and passion, ensuring that your self-care routine becomes a moment of blissful rejuvenation.
Discover the transformative power of Skybox Skincare Bar and elevate your skincare journey to new heights. Pamper yourself with the finest ingredients, exquisite textures, and captivating aromas. Embrace the beauty of self-care and let us be your trusted companion on the path to radiant, healthy skin.