Regular price
Sale price
$5.50 USD
Unit price
per
Sale
Sold out
Share
Rejuvenate Your Skin with Spearmint & Eucalyptus Soap 🌱💧
Experience the revitalizing power of our Spearmint & Eucalyptus Soap, specially formulated to neutralize combination skin and provide a refreshing and invigorating cleanse. This unique soap is meticulously crafted with a blend of nourishing ingredients to promote a balanced complexion and awaken your senses.
Indulge in the cooling and minty freshness of spearmint and the clarifying aroma of eucalyptus, as this soap transforms your bathing routine into a rejuvenating spa-like experience. The captivating scent invigorates your senses, creating a moment of serenity and tranquility.
Our signature goat's milk base is the foundation of this soap, ensuring a creamy and luxurious lather that envelops your skin in moisture and nourishment. The combination of sunflower oil, avocado oil, refined olive oil, argan oil, and jojoba oil work synergistically to hydrate and soften your skin, promoting a healthy and radiant appearance.
To enhance the exfoliation benefits, our Spearmint & Eucalyptus Soap features an organically grown, hand-harvested, and dehydrated loofah sponge embedded within. This gentle exfoliating sponge helps remove dead skin cells, leaving your skin feeling rejuvenated and revitalized. Enjoy the invigorating sensation as the loofah sponge stimulates circulation, promoting a brighter and smoother complexion.
At SkyBox Skincare, we believe in creating skincare products that are not only effective but also gentle and nurturing. Our Spearmint & Eucalyptus Soap is free from harsh chemicals and additives, allowing your skin to breathe and thrive naturally.
Elevate your skincare routine with the refreshing and balancing properties of our Spearmint & Eucalyptus Soap. Embrace the invigorating aroma, the soothing lather, and the gentle exfoliation for a truly revitalizing experience.
Transform your daily cleansing ritual into a moment of self-care and renewal. Let the crisp and minty notes of spearmint and eucalyptus envelop your senses, while the nourishing oils and exfoliating loofah sponge unveil the natural radiance of your combination skin.
Reveal the revitalized and balanced complexion you deserve with our Spearmint & Eucalyptus Soap. Immerse yourself in the harmonious blend of nature's finest ingredients, and let your skin experience the rejuvenating power of this extraordinary soap.
Note: Our Spearmint & Eucalyptus Soap is for external use only.
View full details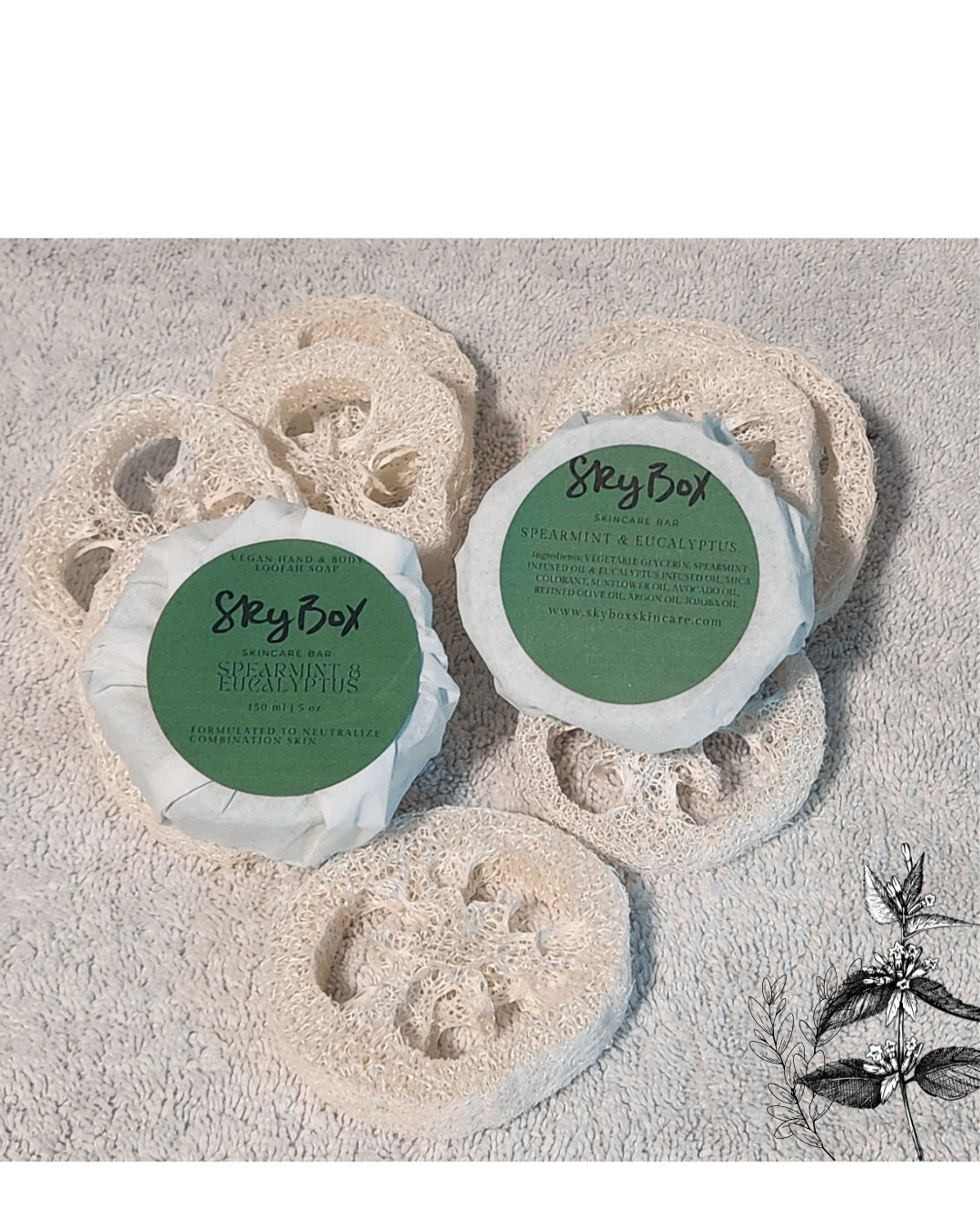 You'll be captivated by the attention to detail and the luxurious experience that awaits.
We invite you to explore our curated collection of skincare essentials, from nourishing soaps and lotions to indulgent body creams and exfoliators. Each product is crafted with care and passion, ensuring that your self-care routine becomes a moment of blissful rejuvenation.
Discover the transformative power of Skybox Skincare Bar and elevate your skincare journey to new heights. Pamper yourself with the finest ingredients, exquisite textures, and captivating aromas. Embrace the beauty of self-care and let us be your trusted companion on the path to radiant, healthy skin.