Regular price
Sale price
$8.00 USD
Unit price
per
Sale
Sold out
Share
🌿💦 Experience the harmonizing power of nature with our Spearmint & Eucalyptus Goat's Milk Soap. Specifically formulated to neutralize combination skin, this invigorating soap combines the refreshing properties of spearmint and eucalyptus to leave your skin balanced and revitalized.
🐐 Enriched with dehydrated goat's milk and dehydrated whole milk, our soap provides a luxurious and creamy lather that deeply nourishes and moisturizes your skin. The combination of argan oil, avocado oil, and sunflower oil further enhances the hydrating benefits, leaving your skin feeling soft, supple, and rejuvenated.
🌱 Infused with the invigorating scents of spearmint and eucalyptus, our soap awakens your senses and creates a spa-like experience in the comfort of your own home. Let the refreshing aroma uplift your mood and invigorate your skin, making every bathing moment a rejuvenating treat.
🌟 Each bar of our Spearmint & Eucalyptus Goat's Milk Soap is meticulously crafted with care, using the finest ingredients to ensure a premium bathing experience. With a generous net weight of 236ml / 8 oz, this soap offers long-lasting indulgence and enjoyment.
✨ Elevate your skincare routine and embrace the harmonizing benefits of our Spearmint & Eucalyptus Goat's Milk Soap. Let its refreshing and revitalizing properties neutralize combination skin, leaving you with a fresh and radiant complexion.
Net Weight: 236ml / 8 oz 🌟
View full details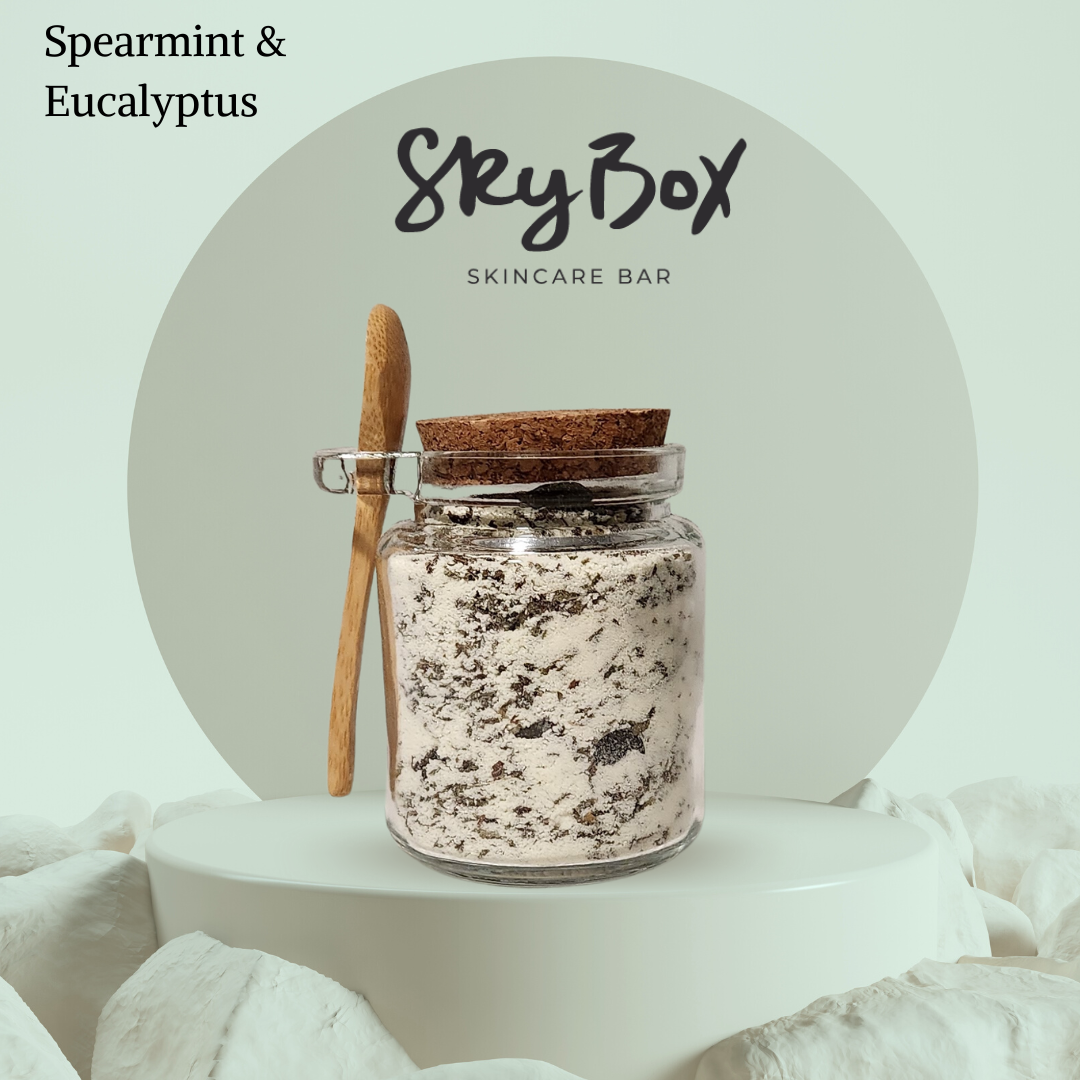 You'll be captivated by the attention to detail and the luxurious experience that awaits.
We invite you to explore our curated collection of skincare essentials, from nourishing soaps and lotions to indulgent body creams and exfoliators. Each product is crafted with care and passion, ensuring that your self-care routine becomes a moment of blissful rejuvenation.
Discover the transformative power of Skybox Skincare Bar and elevate your skincare journey to new heights. Pamper yourself with the finest ingredients, exquisite textures, and captivating aromas. Embrace the beauty of self-care and let us be your trusted companion on the path to radiant, healthy skin.