Regular price
Sale price
$5.50 USD
Unit price
per
Sale
Sold out
Share
Green Tea & Aloe is formulated to balance and replenish oily skin. Made with vegetable glycerin, sunflower oil, avocado oil, refined olive oil, argan oil, jojoba oil, green tea infused oil, aloe vera infused oil, and enriched with mica colorant, this rejuvenating skincare gem provides the perfect solution for those seeking a harmonized complexion.
🍵🌿 Infused with the potent properties of green tea and aloe vera, this soothing blend works to balance oil production while replenishing and nourishing the skin. The antioxidant-rich green tea helps combat inflammation and reduce excess sebum, while the hydrating properties of aloe vera work wonders in replenishing moisture and promoting a healthy glow.
With a lightweight and non-greasy formula, Green Tea & Aloe penetrates deeply to deliver its revitalizing benefits. The harmonious blend of oils, including sunflower, avocado, refined olive, argan, and jojoba oil, softens, conditions, and hydrates the skin, leaving it feeling supple and refreshed.
Indulge in the soothing sensation of Green Tea & Aloe and experience its balancing and replenishing effects on your oily skin. Embrace the natural power of green tea and aloe vera, and unlock a radiant complexion that reflects your inner beauty.
For external use only.
View full details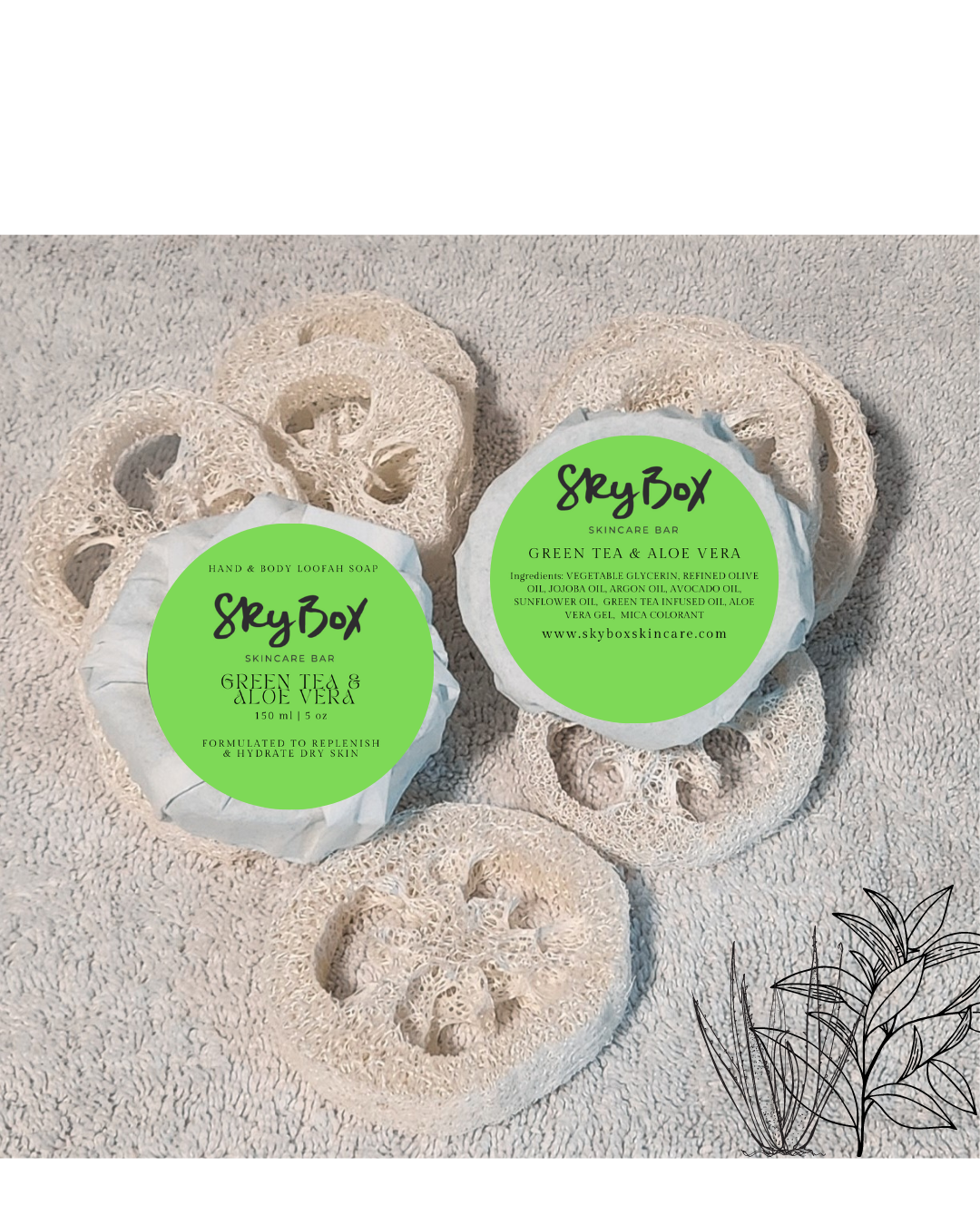 You'll be captivated by the attention to detail and the luxurious experience that awaits.
We invite you to explore our curated collection of skincare essentials, from nourishing soaps and lotions to indulgent body creams and exfoliators. Each product is crafted with care and passion, ensuring that your self-care routine becomes a moment of blissful rejuvenation.
Discover the transformative power of Skybox Skincare Bar and elevate your skincare journey to new heights. Pamper yourself with the finest ingredients, exquisite textures, and captivating aromas. Embrace the beauty of self-care and let us be your trusted companion on the path to radiant, healthy skin.